Leaking Oil Tanks
Leaking oil tanks remain a potential environmental and financial liability.
If you are selling, buying or listing an older property Cedar Rock can assist you by determining if an oil tank is present and whether or not it has leaked. Under current legislation, removal or abandonment of a leaking, non-commercial, underground storage tank (UST), and cleanup and environmental assessment of any contaminated soils is typically not required.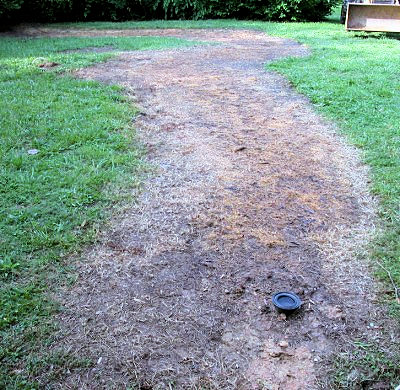 However, if the underlying soils have been contaminated the State must be notified and it will be necessary to file a "Notice of Residual Petroleum" (NoRP) before the property can be conveyed or transferred. The filing of a NORP is also required before the State will issue a "No Further Action" (NFA) letter for a contaminated site. It should be noted that even if a NORP is filed and a NFA letter has been issued the situation shown in this photo may still occur. An underground oil tank remains a significant threat while it still contains oil.
Environmental Assessment Still Required for Above Ground Tanks!
The regulations governing leakage from an above ground storage tank (AST) are significantly different to those for underground tanks. A leaking above ground tank is potentially a significant liability for the purchaser of a residential property and may cause owners significant difficulties in selling their properties as well as a significant loss of value. In these cases, the removal of the leaking tank and cleanup of the associated contaminated soil to satisfy State standards will be required to satisfy applicable State regulations. If the soils cannot be cleaned up to the required standards, further environmental assessment work is required by the State.
Selling Contaminated Properties
A NoRP together with a NFA letter is usually acceptable to buyers, lenders and insurers. However, in some cases lenders and insurers may require assessment and/or cleanup of the site beyond the requirements of the NCDEQ. Even if cleanup of soil contamination is not carried out Cedar Rock would advise, that at a minimum, an underground storage tank should be properly
abandoned in-place
, to remove any further potential for leakage from the tank.
Experienced Oil Tank Services
For over 20 years, Cedar Rock has offered oil tank removal and oil tank abandonment services throughout North Carolina including Durham, Raleigh, Chapel Hill, Burlington, Greensboro, Winston-Salem, Charlotte, Asheville, Wilmington, and Boone. Cedar Rock can assess a property by determining whether a UST is present (sometimes there is no visible evidence), and whether or not any under or above ground tank has leaked causing significant contamination of the surrounding soils. We can then recommend the best course of action for your situation. Cedar Rock offers abandonment services that ensure that an underground tank can no longer cause an environmental issue, or worsen an existing situation. If soil cleanup and assessment is preferable or required in your situation, Cedar Rock will have appropriate equipment on site to remove the tank and contaminated soils with the least possible disturbance of the landscape. Please note that if environmental assessment is carried out, it must be performed by a NC
licensed geologist
or engineer, and the company offering these services must also be licensed to practice geology in North Carolina.
To discuss your situation, the applicable regulational requirements, or to schedule a site inspection to check for the presence of an underground oil tank and/or soil contamination please contact us at 336-376-0394 or use our contact form.